Park Picks 11.22.13
Diana's Picks
1. Loft Moon Spot Blouse
I loooove LOFT. I first stumbled upon the Ann Taylor LOFT store in times square a few years back and any time since then, whenever I go to the US I make an effort to go to one of the stores and stock up. Thankfully now they ship to Canada (yay!) so I can pick up beauties like this top below. LOFT is great because the styles are on trend but they're always classic and oh-so chic. This blouse is no exception- I love it!
2.Prada Candy L'eau
When it comes to fragrance, I tend to keep it simple. I've worn Betsey Johnston for 3 years now as I tend to gravitate towards a bright, fruity scent. So a few months back when my boyfriend bought me a bottle of Prada Candy L'eau, I was excited to try something new. Well, I'm sorry to say to Bestey that it's been a good run, but I think I'll be changing my 'signature scent'. This perfume is so pretty. It has a bit of the fresh and citrus-y vibe that I dig in scents, but it's more sophisticated than my old standby. Not to mention the bottle is so pretty that I can keep it out on display!
3. Ikea Hektar Pendant
Okay, I know I am a little bit biased because in my eyes, Ikea can do no wrong but this pendant is TO-DIE!! You've got to hand it to Ikea for making great design affordable and inclusive- which seems to be what they do best. Over the past few years especially with the addition of the PS line, I'm finding that there are less pieces that read "dorm cheap" and more and more that read "home chic" (okay, so that was super cheesy- but you get what I'm saying). This light falls under the latter category for me. Don't believe me? Check out these photos and tell me these lights aren't absolutely gorg!
Sarah's Picks
Do i really need to say anything? This LBD caught my eye and I fell in love. Not only is it perfect for every single holiday party that you'll be attending this year, but it's perfect for every party from now until the end of time. And that's a long time.
2. Dwell Studio Chevron Coffee Table
Everyone should have an element of fun in their homes, and a coffee table is the perfect place to start. Not only do I love Dwell Studio, but I love Chevron- so this piece is basically a match made in Sarah heaven. Best of all, black and white will work with basically anything, so finding a place where this tale won't work will be harder than finding a spot where it will (just a hint though- it'll do better in a modern/eclectic environment than a traditional one. Unless you like seriously strong juxtaposition.)
3. Hester and Cook Kitchen Papers
Last Christmas, my husband and I hosted 18 people for dinner and our dining table stretched from our kitchen to the far end of our living room. Naturally, I wanted the entire thing to look coordinated and beautiful. Not an easy task! Luckily for me, I discovered the gorgeous designs of Hester and Cook papers- that's right- papers. As in, disposable. Not only did my table come together exactly the way that i wanted it to, the cleanup was easy(er)! I chose the Confetti placemats and Chevron table runner - both gold and cream, which worked with my decor perfectly.
Kali's Picks

1. Red Carpet Manicure
I. love. this. thing. Like I may have said before, low fuss & high impact is my thing. My desire to have pretty, chip free nails, and the little-no time I have to actually paint them have finally come together. I originally looked into one of these because I would sit for an hour waiting for my nails to dry, have the urge to jig, and boom, nails chipped to ish. It's like a shellac nail, but a bit less damaging and easy to do yourself. There are 54 "RCM" shades to choose from, and you can use regular polish but you have to wait for the polish to completely dry, so I've kind of given up on that idea. Once you have cured the top coat with the LED light, you are SET. No smudging what so ever and super high shine that lasts for a week plus on my finger nails, and around a month on the toes.
If you're thinking about getting one of these I have some tips:

1. Buy the big light. If you're thinking about cheaping out on the little finger one, don't. It's not as powerful and would be a huge pain when doing your toes.
2. Open the little bottles of polish, the exteriors are opaque and don't always show the exact color.
3. Make sure you use the buffer/cuticle cleaner-upper, it will allow them to adhere properly and last longer!
4. Wear a UV protectant finger-less glove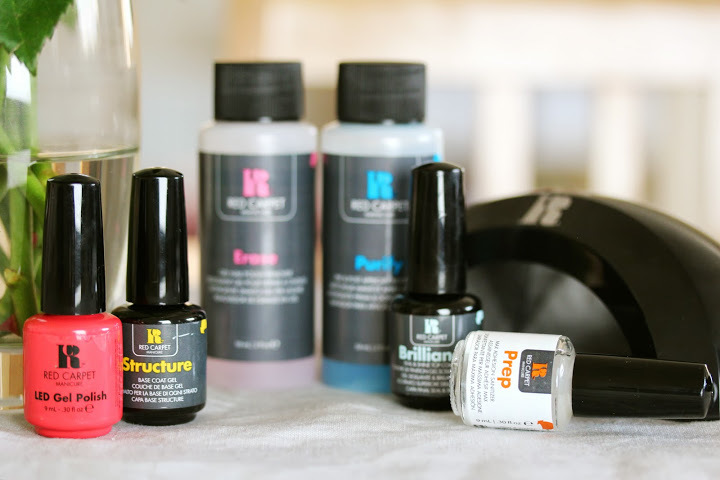 2. Restoration Hardware Winter Wonderland Trees
RH never fails to turn it out at Christmas time. Case in point, the Winter Wonderland Trees from the starlit collection. Why not have a cluster of these gorgeous trees to really add some drama to your festive decorating? (Dare i say in lieu of the real thing). They are pre-lit and ready to go. Shown below easy burlap sacs cover the bottom and powdered snow surrounds to complete the look.
A week ago I was doing my usual Zara browse and spotted this blazer. At first I was frightened, with images of Madonna at the met ball circling in my mind. Having time to process since, I've become infatuated with it. I know, I know, I've made a 180, and now; It must be mine. Keep your eyes peeled in the next few weeks for our holiday looks post, as this little ditty may make an appearance.